We can help you find inspiration for your bedroom design.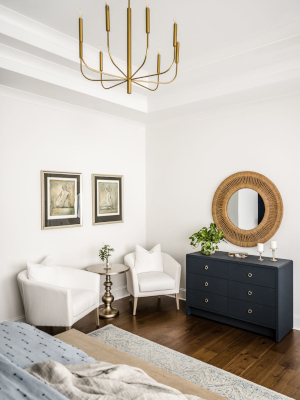 A bedroom is a personal space, so it makes sense that you would want to customize yours to match your needs and aesthetic tastes. But sometimes people find that their bedroom doesn't feel suited to them, yet they aren't sure exactly what they want once they've made the choice to hire an interior designer for help. At Freshwater Interior Design, we can help you discover bedroom inspiration and then take your ideas to create the perfect bedroom for you.
There are many ways for you to find bedroom inspiration. A common way these days is to look through ideas on social media platforms like Instagram and Pinterest. There are tons of ideas in all different styles on there, so you can create a mood board of all the things you like. You could also look through interior design magazines or draw bedroom inspiration from your friends' homes or even model homes. We'll also help you find bedroom inspiration when we sit down with you during a consultation, as we are familiar with many different styles, trends, and design tricks that we can bring to your attention.
We understand the importance of having bedroom inspiration before beginning a design project, so we are here to make sure you have what you need to refine your vision and get your new build or renovations rolling in Lake Norman, North Carolina. From there, you can count on our team to transform your space using high-quality materials and attention to detail. Contact us today if you have questions.
---
At Freshwater Interior Design, we offer bedroom inspiration ideas to those in Lake Norman, Charlotte, Concord, Cornelius, Davidson, Denver, Huntersville, Sherrills Ford, and Mooresville, North Carolina.