You deserve a custom bedroom.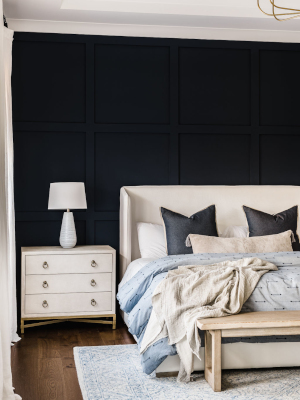 You work hard to give your family a good life and create a loving home, and as rewarding as that is, it's also exhausting. You deserve to have a place you can retreat to that is designed just for you. A custom bedroom is a fantastic idea, and our team at Freshwater Interior Design is here to help you get it at your Lake Norman, North Carolina home. Whether you're planning a new build or looking to remodel your space, we're the experts you can trust to create the bedroom of your dreams.
Your bedroom should be beautifully designed according to your aesthetic tastes, but it should also be functional. We know how to balance these things and ensure that your bedroom is exactly right for you and your lifestyle. When starting a custom bedroom project, we like to begin with a consultation so that we can learn what your goals are for your space, whether you have budgetary constraints, and which interior design style or styles you like best. We'll use all this information to create a custom bedroom design that you'll love.
We don't just handle the design part either; we can take your project from concept to completion no matter its size. We can design the entire room or help with individual elements such as lighting and paint selection.
If you are ready to begin working with our team to design your custom bedroom, we can assure you that we'll provide beautiful results. Contact us to learn more.
---
At Freshwater Interior Design, we design custom bedrooms for those in Lake Norman, Charlotte, Concord, Cornelius, Davidson, Denver, Huntersville, Sherrills Ford, and Mooresville, North Carolina.